Showtime PPV App is another Mobile application that let you watch movie, TV shows, and especially fight event including Boxing. So what's special about this app is you can even order fights similarly to the PPV concept.
How to PPV on Showtime App?
The app will show you when a boxing fight event is available for you to purchase. You just need to click on "Order the Fight" to start your PPV event.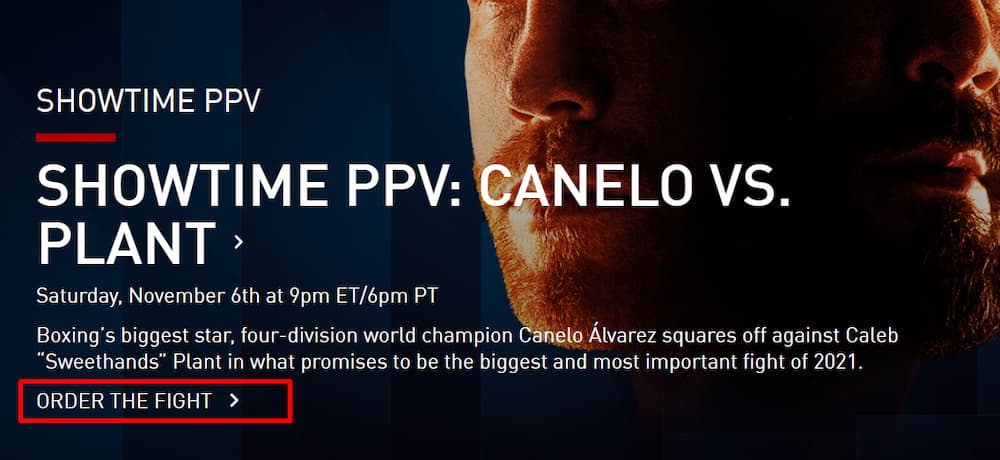 What is Showtime App?
Showtime is an entertainment app which is developed by Showtime Inc. Using this app you can watch and stream movies, TV Shows, files, and even fights. Usually, they add new titles to watch every day.
Can you watch Boxing using Showtime?
Yes! You can watch boxing fights and even do PPV using the showtime App. That's why we call it Showtime PPV App. You just need to give it a try by ordering a fight. I'm pretty sure it will be a new experience for you!
Is Showtime App Commercial Free?
Yes! They claim Showtime PPV is an uninterrupted service. You just need to pay for their monthly subscription and the even prices.
How to get Showtime App?
Fortunately, the showtime app is available for both Android and iOS Devices. Below are the direct links to download the Showtime PPV app.
How to watch Canelo vs plant on ShowTime?
SHOWTIME PPV: CANELO VS. PLANT event is happening on Saturday, November 6th at 9 pm ET/6 pm PT. You just need to go to this event link and order the event as mentioned in the above image.
Also read Caffeine app: How to watch Live Streams.
I hope now you are clear on Showtime.com App. If you think this article helped you please share it with your friends.