Vizio remote app is another popular app to control your Vizio SmartCast TV. This app is a product of the publisher Backlash. However, currently, people are having trouble with this remote app. Most of them are not able to properly download the app. Following is the guide on how to download Vizio remote app and fix any issues with the app.
How to download Vizio Remote app?
To install this app you need to have infrared port. Following are some mobile phones with infrared port.
Huawei Mate 10 Plus
Huawei Mate 10 Pro
Huawei Honor 20 and 20 Pro
Huawei P30 Pro
Xiaomi Redmi Note 4, Note 5, Note 6, Note 7 and 7 Pro
Xiaomi Mi 9 and Mi 9 SE
Xiaomi Mi A3 / Mi A1 / My A2
Huawei Mate 20 Pro and Mate 20 X
Xiaomi Redmi 7
Xiaomi Redmi Y3
Your Smartphone not on the list? Don't worry! The above list if not complete. To know whether your smartphone has an IR blast google it. Or else check whether you have the following black dot on top your smartphone. If there is one there is a big chance of it being an IR blaster.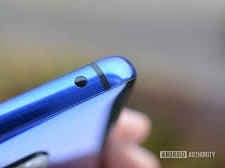 Aftger you confirm it use following link to download Vizio Remote app for both Android and iOS.
After installing the app make sure the TV that you want to pair is switched On. And you must connect both TV and your Smartphone to the same network. (Same WiFi)
It app should work for almost all the latest models. (TVs after 2015) If your TV is older than that and is not capable of connecting to the internet, you won't be able to use internet-related buttons in the app.
Vizio remote app not working fix
If your VIZIO remote app is not working well, try the below steps to fix your remote app:
Make sure your Smartphone (which has remote app installed) has an IR blaster.
Make sure your TV is supported by IR connectivity. (Which you want to control using the remote app)
Make sure both Smartphone and TV are connected to the same network.
Clean app cache, launch the Vizio remote app again.
Try restarting your mobile.
If it still doens't work you can contact VizControl email support backslas[email protected]
Thank you for reading this article. If you loved this article please share it among your friends. They might love it too.
"This is definitely one of the best abbd I've ever downloaded work like the standard remote ad remains on top and it doesn't mess with you by using it for the television."
"This app is truly good, honestly. I've been absolutely pissed off tonight because my remote system has decided to stop working. And I just wanted to try it, I saved my living tonight because I didn't have time to go to buy a new one. I read some reviews that had goods and poor. Well, it is worth it if you right now need it. Often, I've found it lags, but nothing bad. Worth saving my butt this evening. P.S. I am an enormous lol of the gamer."
How to fix Vizio app
First clean your app cache then………….