Brain Test Level 91 Complete the leve please
Brain Test Level 91 – "Complete the leve please" Answer post is for everyone who is stuck on this level. For your reference, we have included images and videos as well. Also in every day, we are updating all the levels of Brain Test answers.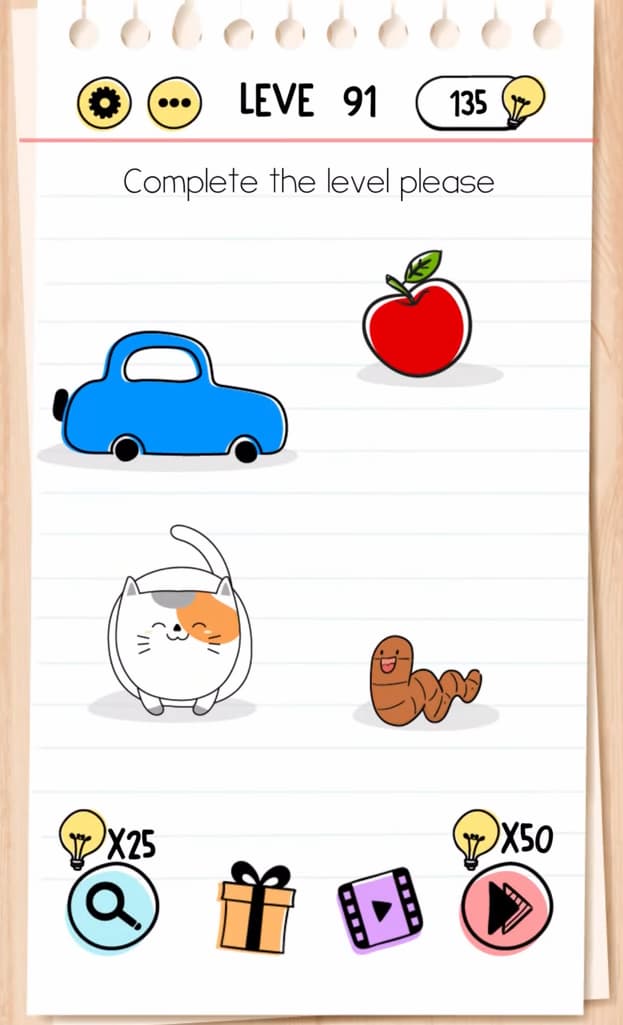 Below is the solution for Brain Test Level 91 Complete the leve please :
Answer: Take "L" from LEVEL 91 and add it to "leve" in the question.
Answer Explanation
Actually, in this puzzle, the relevant objects are not useful. The apple, car, cat, and the worm is there to distract you. The question itself emphasis that you have to complete the "LEVEL". That means you have to complete the word "LEVEL".
What is Brain Test Game?
"Brain Test is a superb free mind-blowing quiz game with multiple brain teasers. Different riddles testing will challenge your mind. Brain Test Game is an award-winning puzzle game with 35 million downloads."
In the Brain Test, the player must answer a variety of questions, choosing from four possible answers. The difficulty level increases as the player advance to more difficult rounds. If he/she answers correctly, they are awarded points; if they answer incorrectly, their score decreases.
Our Thoughts: Brain Test Game is a fun game that gets your brain thinking and has you answering questions that increase in difficulty with each round played.
For more information, please visit the official website.
Download Brain Test Game for free via the App Store. If you are looking for a brain teaser game that will challenge your mind with riddles, check out our Brain Out Game Review.
Hope this post answers your question how to complete level 91 on brain test.