Moonpig app is for all the people in the world who are looking for a perfect way to send Birthday cards to their friends and Family. Using this app you will be able to personalize each card and send them on time. Which is pretty cool. While there are many other app that has the capability of creating birthday cards this is the only app that allows you to physically send the card to your friends.
Also check out Veryfitpro app.
Functions of Moonpig app
Upload Photos Direct From Your Phone
This means when creating a birthday card you will be able to upload related photos using your mobile. (Example photos of you two together)
Import Birthdays and Anniversaries from Your Calendar
If you are like me you re always marking the birthdays on you mobile's calendar. So the moonpig app with connect with that calendar and learn about when is next birthday.
See Your Card in Augmented Reality
IN this feature you will get a idea about how your designed card will look in real life.
Add Handwritten Messages To Your Card
To do this you might have to write something in paper. Then take a photo of it and upload.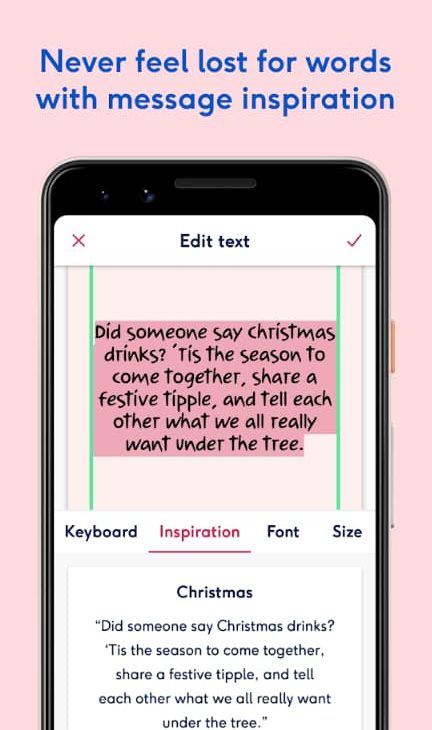 Download Moonpig App:
You can use the following link to download Moon pig App APK from official sources for Apple iPhone. (iOS) Since Moonpig iOS available on the App Store there is no need to share APK.
Fortunately this is also available for Android devices. Following is the direct link to download the birthday card maker app from Android Play store.
Is there Moonpig voucher codes available
Actually there is the offer in Moonpig app. For your first order you can get 30% off. To use this coupon.
Design the birthday card.
Add photos and effect required.
Test the card in AR thing.
Click on add to cart.
In the coupon code box put APP30OFF
Go to payment.
You will see that there is a 30% for.
Again keep in mind this 30% off is voucher code is only for your first order.
User reviews of the Occasion & Birthday Cards MakerApp
"I find the Moonpig app easy to use and a good choice of cards at a good price for all occasions. Your information is automatically saved, so that you do not lose information if you need to go back to edit anything. Payment by Card or Google Pay is straightforward. Cards are delivered quickly, even in this unusual time! I 'd advise you to use this app."
"· Become easy to follow the instructions. The first time I tried it was the only problem I had was that I was not going through the payment, but it was a temporary failure. I've taken the chance to switch to a major card to a nice discount the first time you use the device. I 'd suggest it certainly."
"Using EASY! First it was surprised to have blank card pages, but then they 'twigged' inside! Photo VERY was added easily and message was then added inside … EASY again! Easy payment, 100% bang on app actually! I read the comments TBH, and several were nice enough to convince me that it was useful. Tried on Samsung Galaxy S8 + +"
Thank you for reading our post. If you loved it please share it among your friends. They might love it too.