We all know that using filters on Instagram is always is awesome. These days almost all the users are using these lenses to improve their shots. Especially since Instagram allows users to create and add new filters creators are going crazy! Currently, there are so many filters available on Instagram.
Recently we shared who is your soulmate filter on Instagram. I hope both you and your loved one enjoyed it a lot 💕. Today I brought you another filter like that. So in this article, I will be talking about 'Perfect couple' Instagram filter, what it is, and how you can use it on both Instagram and Tiktok. So clear your schedule, get ready to tag your boo! 😁
What is the 'Perfect Couple' Instagram filter
The perfect couple filter is not just another AR filter that will help you to find the perfect couple. To be a couple there should be two parties. ✌ Well, it is you and that "person" this filter finds. Simply put this filter will match you with the person who you would make a perfect couple. When you activate the filter it will randomly select a letter. So you have to assume a person who has a name starting with that letter.
As you can see in the video it will give you an output like, "Perfect Couple You & ……..
How to get the 'Perfect Couple' Instagram filter
AS usual there are two main ways to unlock this filter.
First way is through creator's profile.
The 'Perfect couple' filter is created by user "rxkyx". So you have to visit his profile to unlock the lens. To get the 'Perfect couple' filter on Instagram you have to go to the lenses tab on the above user's profile. Just make sure you use your mobile to open the below button to the creator's profile.
Now move to lenses tab. There you can find following.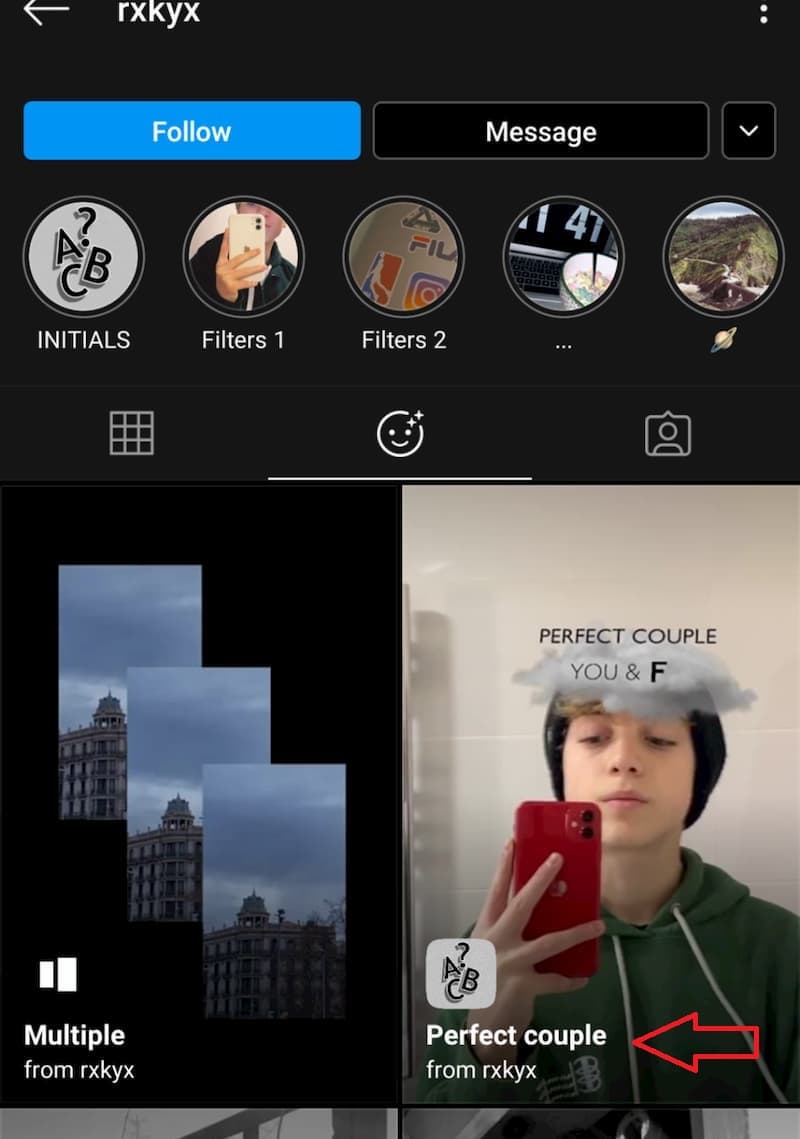 Tap on above mentioned Perfect Couple video. There you can find the button called "Try it". When you tap on it you will be able to unlock 'Perfect couple' filter.
Also you will have the option to save it on your camera. So you will able to use it later.
The most easiest way or the second way is to tap on the following button. It will directly open the Perfect couple Instagram lens. 💘
How to use the 'Perfect Couple' filter
I hope every one was able to unlock the lens. After unlocking it you can access 'Perfect couple' filter, from your instagram camera. Now scroll and find the perfect couple filter. It has the following icon.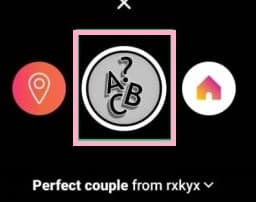 When you tap on it your camera will start working. Make sure you turn on the selfie camera instead the back cam. More some reason if you want to use the back camera make sure you somehow focus your face on it. 😛 (This filter needs a face to work.)
Now filter will do its own magic. It will randomly find a letter for you. So it is a first letter of the name of the person who would make a perfect couple with you. 💖.
Also this is a great way to start new relationships. Approach to any girl and say that this filter selected her LOL.
Perfect Couple Tiktok Filter
Unfortunately, this filter is not yet available on Tiktok. But there is a cool workaround for it. All you have to do is record a video using Instagram (while using the perfect couple filter). Now save this video to your mobile. Then open the Tiktok app and go-to camera. Now select the already recorded Instagram video. That is the only way to use this lens with Tiktok.
Thank you for reading our artcile. If you have any questions or concerns please comment below!