Funny Among Us Names list: In this article you can find the most memiest, most funniest you can ever ask for. These nick names will impress your friends while making them laugh.
Currently, among us the most popular gaming on the internet right now. Even the popular streamers are currently moving to Among Us. Looks like this small sized games got everyone's attention! Personally, I'm also playing Innersloth's most of my free time.
We all know the game is funny and crazy as it is. Oh! lies I have told to my friends LOL. However, there are more ways to make this even more crazier and memier. (Is this even a word?) One of those ways is to have a funny name.
Funny Among Us Names list
A color as your name: This is the my favourite way to make confusion among my friends. So what I do is my going to use a name like Blue, Yellow likewise. Then I'm changing my body color to something else. For example, I name my self as Purple my use body color green. Now when there is a meeting for someone is suspicious about you they will have hard time to point you out. Should they call me Purple of green!
No one This is another cool way for naming yourself. "I saw no one near the dead body" LOL. The confusion that makes. "I think its No one". I try using this name you will be amaze when you see the confusion among your friends.
Sus Well, all of us are sus at a certain point. So why hide it?
President "Guys I think president is the imposter." , "President Killed him, I saw"
YourM0m Well, using this is bit rude, but one of the popular name in Amoung us. "I saw your mom in Medbay". "Your Mom is the imposter".
Trump. Well, I wont even explain why this is funny.
Jesus Again something you can use.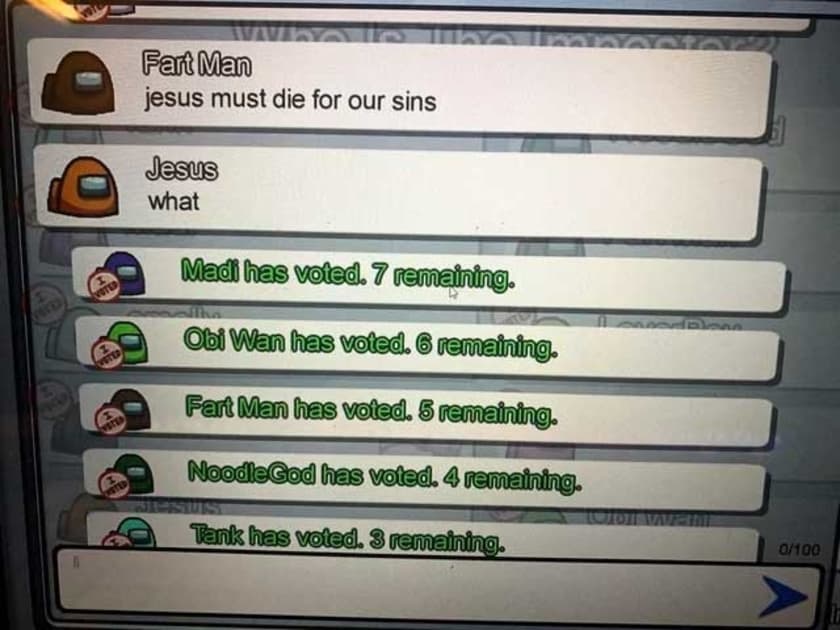 Everyone, "I think its Everyone". "I saw everyone go in a vent"
He/She "I think its he. " This will lead for many confusion. Hence I think this is one of the best Funny Among Us Names.banana
doncorleon
doncolon
babydoodle
fluffcook
bacongod
notathrealennneh
PotatoGun
Superman
Bat Man
Petal
Putin
OldMan
Granpa
Dad
SALT
GiantFartt
Harry Potter
TheExplorer
PACMAN
So, what are you waiting for? Choose one of above and impress your friends!