Icons In Overwatch Custom Game Title
Have you guys ever seen weird icons in Overwatch Custom game Title? For the first time I saw this in a Dva Racer workshop game. Since then I was looking for a proper guide on how to implement icon in Overwatch custom game title. Well this is actually easy, even a hanzo main can figure out.
Selecting an Icon
First select a code from this list. I had to put then on another page since there are more than 500 Overwatch icons. Some of them are limited to several maps you can find them under a separate title. Whenyou finished selecting a code, copy the code (Ez clap Ctrl+C, only kids right click and copy.). I know that all the Overwatch players are brainded so I created a small GIF show how to properly copy Icons for Overwatch Custom Game Title. Again here is the link for the code list.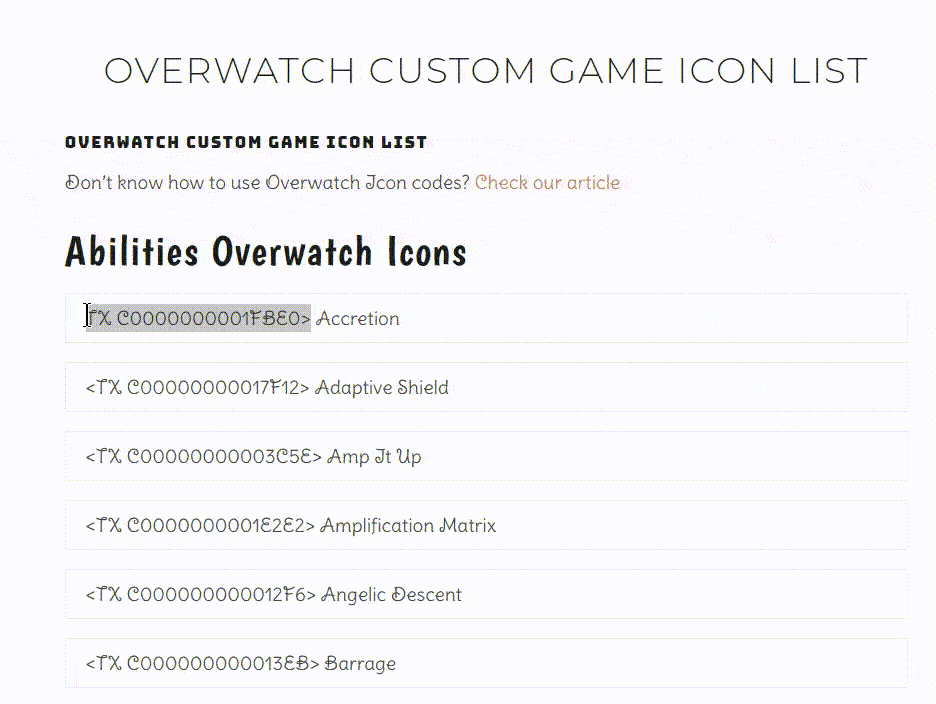 Hold up!, something cool got released recently. User 알파카 on Overwatch forums released a symbol generator for Overwatch custom game title. Visit Dva Styler.
How to use the Icon code?
After you copied the code. Create a Overwatch workshop game. Struggling to find a good workshop mode? Check our database! Then rename the title as usually. Then paste the copied Overwatch custom game image code to the beginning of the title. Make sure it looks like following Image.

Well basically thats how you add an image to your custom game title. Now other players will see your Icons In Overwatch Custom Game Title.
How do I check my Overwatch custom game icon?
Just click on Settings button –> Save Preset –> Create New —> Save.
Then go to Setting –> Presets. You will see your title with the icon.
How to add colors to the Overwatch title?
You can color the title of custom games by adding <FG"Hex color go here"FF> in the beginning. For exemple, the hex color of red is FF0000, so if you want red in the title, just add <FGFF0000FF>. This applies in the preset aswell, and for everyone who is searching for a game, like this and here is another example.
Credits Drknight_
Bonus tip! Wanna do something like below image?

Just replace your title with following code.
You can use numbers from 1-69696966.
I hope you loved this article. If so please share it among your friends. They might love it too.