Introduction
Many of you must have seen there is something called SAP experience in almost every job posting. Most often people do not have a better understanding of what is SAP experience is. In this post, we will learn what is SAP software. To get a better understanding of the term SAP first let's take a look at what is an ERP system.
What is SAP?
SAP stands for System Application Product in Data processing. SAP is an ERP system. It is considered as the leading ERP software in the world. The main reason behind is, when compared to other ERP systems SAP is neatly integrated with all the business process. Since SAP is an ERP system it is better to learn what is ERP before jumping to SAP.
What is ERP?
ERP is an acronym for Enterprise Resource Planning. It is basically a collection of Enterprise Resource Planning applications. To understand it completely let's look into an example business process in Coca Cola.
Coca Cola is a beverage company that sells soft drinks globally. Even though their Head office is in Amercia they have branches and resellers whole over the world. To sell soft drink Coca Cola needs to manufacture them. To manufacture they need raw materials or half-finished goods. Then they need to do pre-sales, sales and distribute soft drinks. Go through the following image for a better idea.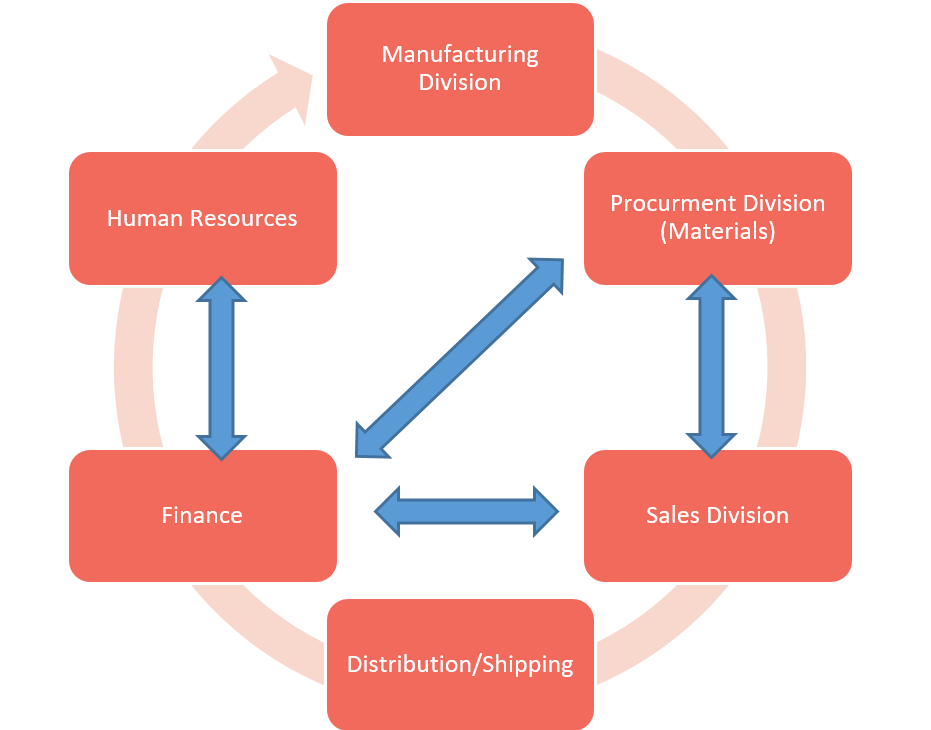 We call all these Manufacturing, procurement, sales, shipping, finance, human resources as Business Functions. Keep in mind that the above-mentioned business function are just the basics. There can be unlimited business functions in a company.
One important fact is that all the business functions are interconnected. Following are some examples.
Like that all the business functions are connected with each other. Due to this complexity, it is impossible to manage all the business functions manually. Especially in a company like CocaCola. That why we need ERP systems.
Basically ERP system combines all the business functions and gives a complete solution to the business. This means that an ERP system is a software that integrates all business functions into one complete system to streamline processes and information across the entire organization. This is what SAP is!
SAP Program Characteristics
As mentioned in What is SAP, SAP program is an ERP system. It has the following characteristics.
SAP software operates. Which means all the updates is instantly recognized. Due to this capability, users can get the latest reports instantly. For example if the company sells some stock, the moment they issue Post Good Issue note the stock will reduce.
On the other hand, SAP uses a single database as any other ERP system. Hence all the data coming from different business functions are stored in a single database. Due to this reason, SAP software can smoothly integrate with all other modules.
Also, you can host SAP on-premise, on cloud or as a combination of both. However, the current trend is hosting SAP package on the cloud platform like Microsoft Azure, Google Cloud, and AWS. They even provide SAP as SAAP.
History of Sap Software
Let me tell you a short story. There were five people who were working in IBM in 1972. These five people Dietmar Hopp, Klaus Tschira, Hans-Werner Hector, Hasso Plattner, and Claus Wellenreuther were working on an ERP system. Later IBM informed that they no longer need that ERP system. Rather than abandoning their project these 5 people decided to leave the company can start their own company. Hence in 1972 1972, they founded the SAP Systemanalyse und Programmentwicklung ("System Analysis and Program Development" / "SAPD") company, as a private partnership under the German Civil Code. (Source: Wikipedia)

Their main dream was to build an ERP system which is capable of real-time data processing. In 1973 SAP released their first commercial edition which is SAP R/1. Even though it started as a financial accounting solution later it had many ERP capabilities.
In SAP R/1 "R" stands for "Real-Time". Due to its real-time processing capability SAP got its first client, ICI a German Chemical Company. Following are all the SAP releases from 1973 to 2009.
| | |
| --- | --- |
| 1973 | SAP R/1 |
| 1979 | SAP R/2 |
| 1992 | SAP R/3 |
| 1998 | SAP R/3 Release 4.0B |
| 1999 | SAP R/3 Release 4.5B |
| 1999 | SAP R/3 Release 4.6B |
| 2001 | SAP R/3 Release 4.6C |
| 2003 | SAP R/3 Enterprise Release 4.70 |
| 2004 | SAP ECC 5.0 |
| 2005 | SAP ECC 6.0 |
| 2010 | SAP HANA |
SAP HANA
SAP S4/HANA is the latest SAP release. SAP HANA uses an in-memory database. This means SAP HANA is running on RAMs. Due to this reason this software is incredibly fast. Hence companies can easily manipulate big data create important reports quickly.
SAP Products
I hope now you have a good idea about what is sap! So let's talk about some important SAP products in different industries.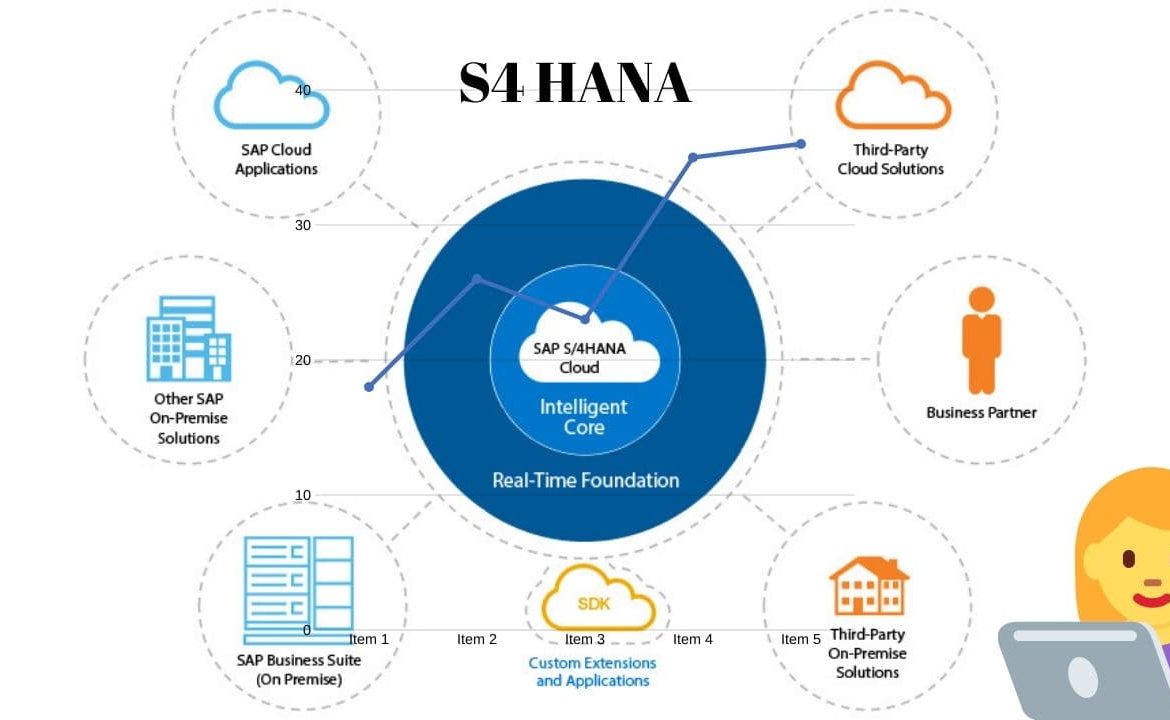 SAP S/4HANA is an in-memory ERP software suite that enables companies to carry out transactions and analyze business data in real-time. In February 2015 SAP launched S/4HANA in broad fanfare and now finds S /4HANA one of its main services to be the next generation ERP platform replacement for customers. In order to help solve more complex problems and to manage far more information than its predecessors, S/4HANA is meant to be better used and administrated in on-site, cloud and hybrid deployment models. However, SAP strongly drives its customers into the cloud.
SAP Ariba is the Procurement & Supply Chain Management solution for Spend Management. Ariba was acquired by SAP in 2012 for $4.3 billion.
Using SAP Ariba companies can Make better decision-making with insights into spending analytics. Negotiates best value deals on both direct and indirect products for cost savings. Reduce risk and speed up the contract life cycle with an integrated contract administration feature. Also, Ariba helps to keep track of the expenditure.
SAP Business ByDesign
SAP Business ByDesign is an ERP solution for Small & Medium Entreprises by SAP. The software is designed to offer integrated business analysis, mobility, e-learning and support in all areas of application, from financial to human resources. However, this ERP solution is not as powerful as SAP S4/HANA but it is sufficient for an SME.
SAP BusinessObjects
Well, now you are a long way from what is sap. Keep it up!
SAP BusinessObjects is a business intelligence (BI) reporting and analytics system for enterprise users. There are a number of reports which allow users to identify information, analyze it and create reports that visualize insights. This includes reporting applications. SAP BusinessObjects was acquired by SAP in 2007 for $6.8B.
SAP Concur
SAP Concur is a US company that provides travel and cost management services to businesses (formerly Concur Technologies). It is based in Bellevue, Washington. In September 2014, SAP company agreed to buy Concur for $8.3 billion from Concur Technologies. The agreement was finalized in December 2014.
What is SAP Software: Conclusion
SAP is the short form for Systems Applications and Products in Data Processing. SAP, by definition, is also the name of the ERP software as well the name of the company. I hope you now have a clear idea on what is sap. Keep in touch for more articles on SAP.
Sources
1) https://www.sap.com/index.html
2) https://www.netsuite.com/portal/resource/articles/erp/what-is-erp.shtml
3) https://searchcio.techtarget.com/definition/business-process
4) https://www.ariba.com/
5) https://en.wikipedia.org/wiki/SAP_Ariba
6) https://www.successfactors.com/index.html
7) https://searchsap.techtarget.com/definition/SAP-SuccessFactors
8) https://en.wikipedia.org/wiki/SAP_Concur
9) https://searchsap.techtarget.com/definition/HANA-SAP-HANA