Looking for Best apps for learning Spanish? you are in the right place!
At some point in our life, we get this urge to learn a new language. Due to its popularity, so many people prefer to learn Spanish among other languages. Also, keep in mind that Spanish is sound very unique and quite nice.
On the other hand, it is said that learning multiple languages can reduce Alzheimer's and dementia. Also do not forget that it makes you unique and smarter.
When it comes to statistics Spanish is the second most spoken language. So it is a good financial decision to learn this language especially if you are from the EU region. This helps your resume to shine.
So if you already here you know what are the advantages of learning this language. So you are here looking for how to learn Spanish for free. The easiest way is to download an app that allows you to learn your second language on the go!
Following is our list of Best Free apps for learning Spanish. So be ready to hablando en español!
1. Duolingo
We selected this as the best free app for learning Spanish, due to multiple reasons. First of all, you will never get bored while using this app since it is like you are playing a game. You can level up and earn badges while you learn your favorite language. Use the below link to download Duolingo from official sources.
After installing the app select "Spanish" as the language you want to learn. Also if you are totally new to the language you can select I am a beginner.
Also, you can adjust for a day how much time you want to invest in learning the language. This is a very important feature. The app will give you awards after the daily session is completed.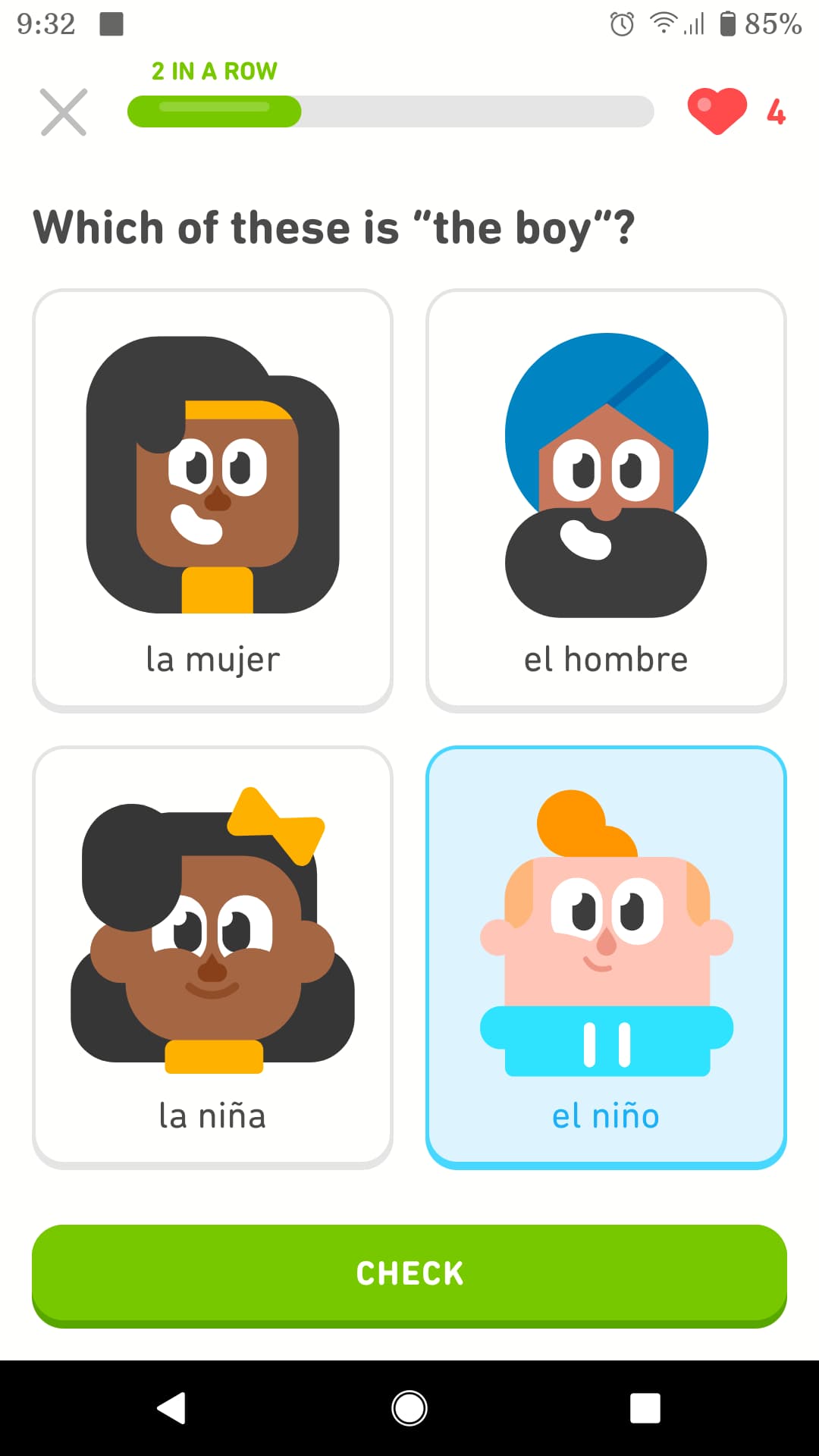 Above is the screenshot of the first lesson. As you can see this app offers visual learning. There are so many graphical lessons. Also whenever you touch any Spanish phrase it will pronounce it for you. This helps you to clearly pronounce the foreign language you plan to speak.
Also, this app adapts according to your language learning requirement. For example, it will give separate lessons if you want to learn Spanish for fun, another lesson if you want it for business requirements, etc.
While there are advantage of paid version Duolingo Spanish Learning App is 100% Free.
That's why it is one of my favorite Spanish learning tools. I really hope you will enjoy this app.
Also check out Brain Out app if you love quizzes.
2. Memrise
Using Memrise you can learn Mexican Spanish, Spanish, French, German, Japanese (Kanji), Italian, Korean, Chinese, Portuguese, Russian, Arabic, Dutch, Swedish, Norwegian, Polish, Turkish, Danish, or even English.
This app is very popular and has more than 50 million users in the world. The special thing about the app is that you can even use this app offline which is very cool.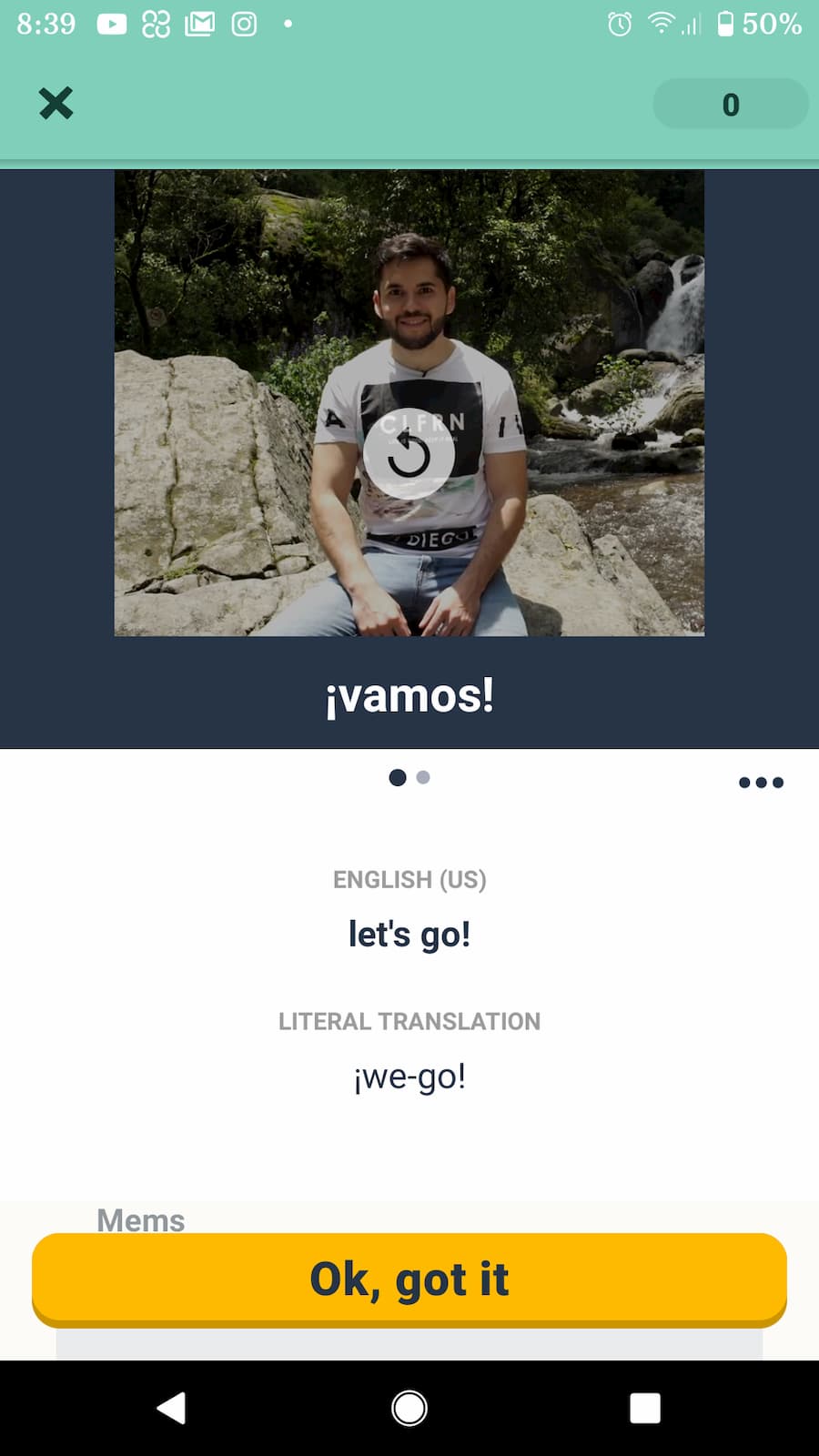 In Memrise you can even learn from real Native language speakers. For example, there are many Spanish videos you can watch. These videos are created using Native Spanish speakers.
Also, developers say that there is since behind their method of teaching. In this app also you can find some quiz-like games.
You can download the app from Apple app store and Google play store using below links.
3. Mondly
If you need free daily Spanish lessons, Mondly is the app you should choose. Currently, there are more than 4 million people using the app. Mondly will teach you Spanish easily, efficiently, and funnily using fast language learning techniques. Crafted and perfected in the field of language learning through years of study, the app follows 4 extremely powerful principles:
Explore the Spanish language through common phrases, not individual words
Master Spanish by listening to native speakers
Practice what you've learned by real conversations.
Smart repetition system
When compared with other apps Mondly's Smart repetition system is unique. Language learning has some gain from the repetitive repetition of phrases. In Mondly there is a magic interval between repetitions that will allow you to easily memorize new words and phrases. The app learns these mysterious repeatable intervals and uses them to help you pick up words and phrases forever. No wonder people all over the world are sure Mondly would be the best way to learn Spanish for free.
You can start learn Spanish directly from below link!
4.Boss in Spanish: Busuu
Busuu won the App of the Year 2020 EdTech Breakthrough Award. This clearly emphasizes that this is is one of the best Spanish learning apps. This tool is very user friendly as easy to navigate when compared with StudyBlue. Currently, there are more than 10 Million Busuu users in the world.
Also according to a study done by the company, it is said that 22 hours on Busuu is equal to 1 college semester.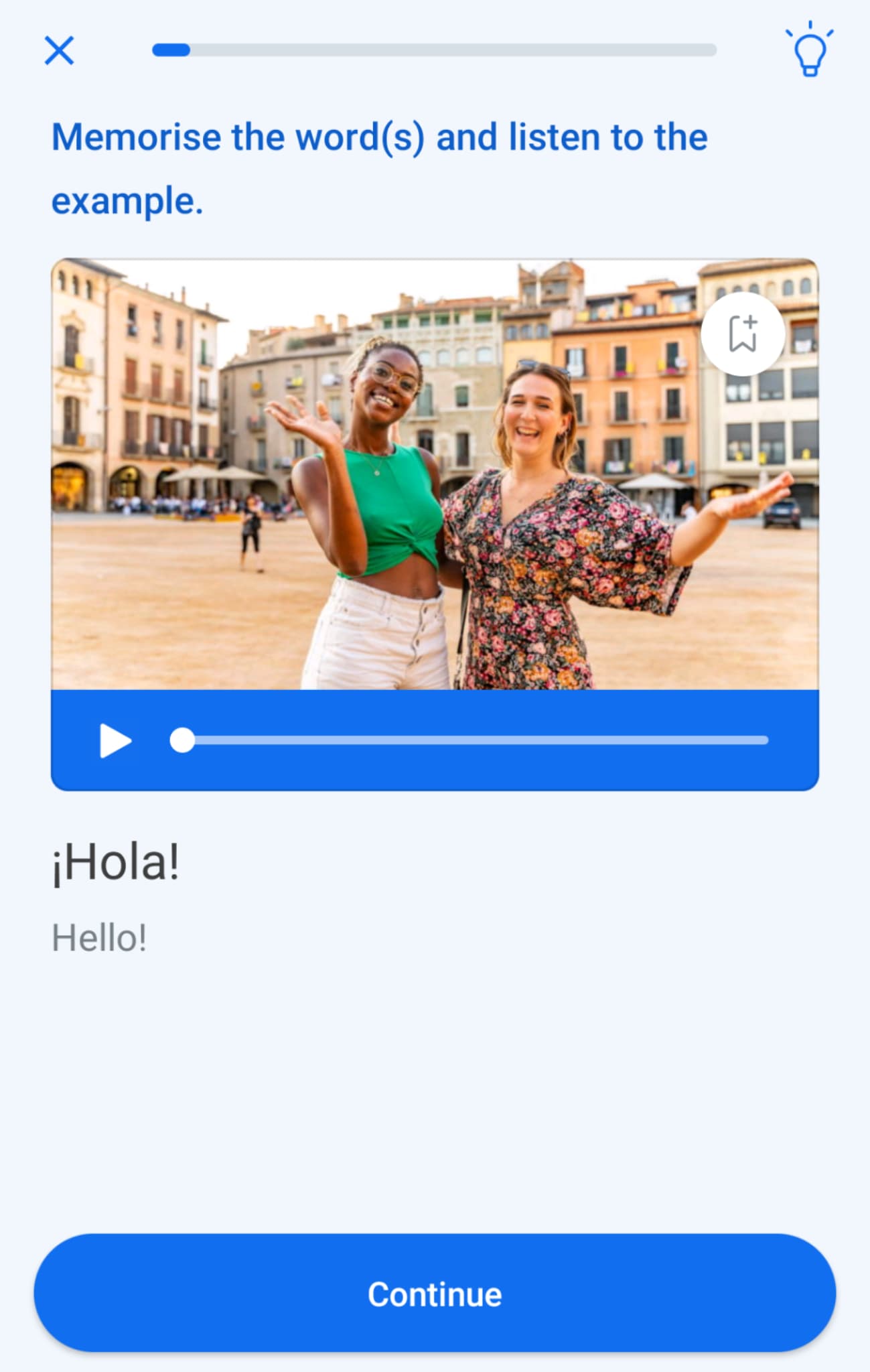 Similar to other apps this Spanish tool has several lesson categories. You can learn Spanish for travel, business and even for fun.
Busuu allows you to get connected with other users. So you can make friends who are learning the language like you. So you can share tips and knowledge with each other.
Also they have a AI-grammer trainer for those who are having hard time learning spanish Grammer.
This app also supports offline use. That means even if you are not connected to Wi-Fi you can learn Spanish as usual.
5. Drops
If you have a lot of time and want to learn Spanish while playing games this app is for you. If you are looking for what is the best word game app to learn Spanish download the Drops app right now!
This app is very unique when compared with others. Drops is way more interactive than any of the above-mentioned app. Even the tutorial is designed very carefully that no one will feel bored.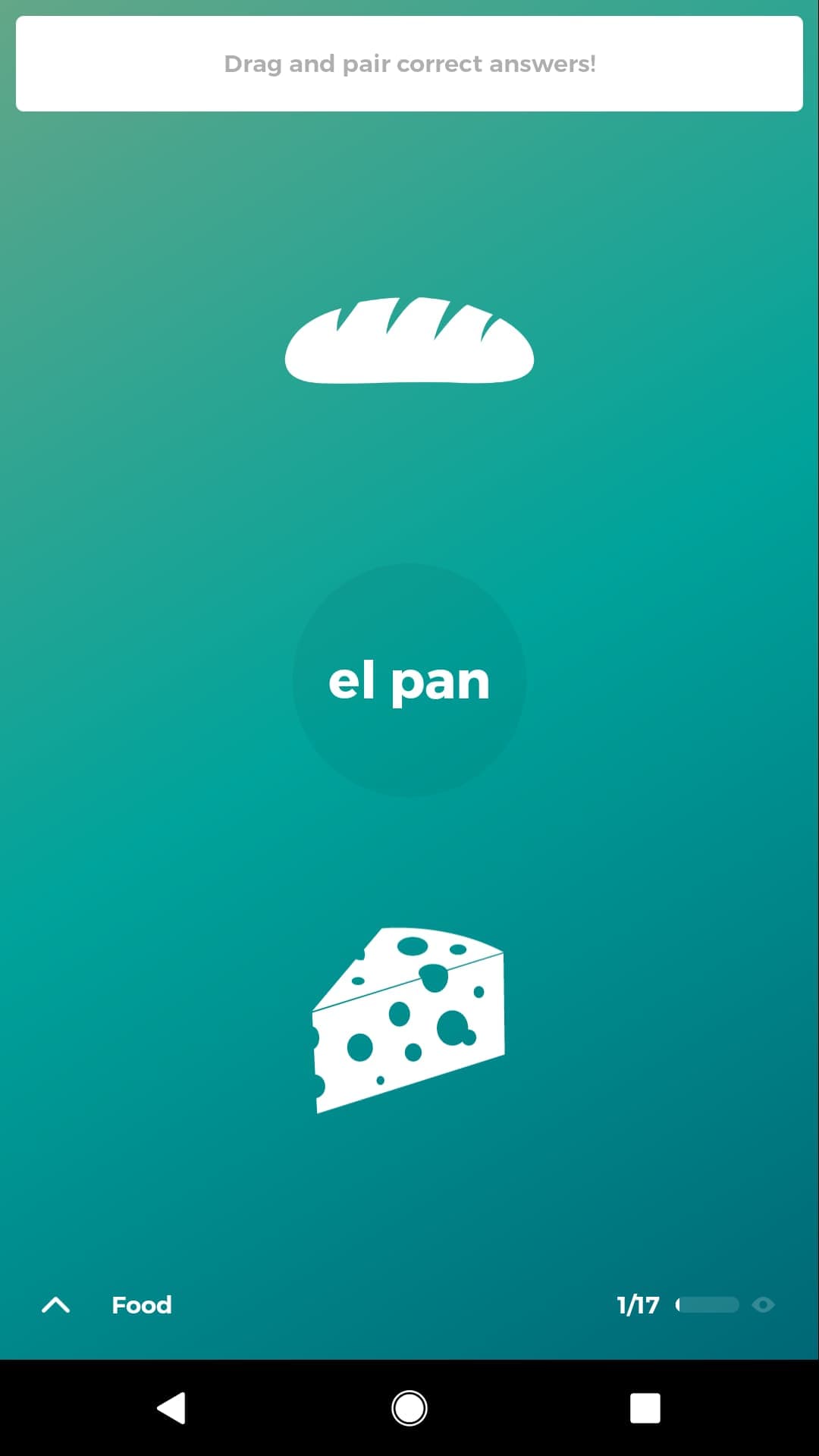 In the Drops app, you have the ability to learn both Castilian Spanish and Mexican Spanish. This app is 100% illustrated and animated. Each session is only 5 minutes.
However, Drops only focuses on vocabulary. So if you want to learn all the Spanish words while having fun this is for you!
Drops app is 100% free. More than 1700 words in 99 topics are all available for free. However if you are interested you can subscribed can keep learning!
Just use below links to download drops for free from official sources.
6. Best apps for learning Spanish: Rosetta Stone
Rosetta Stone is a very simple tool to learn Spanish for free. This app is awarded the 2019 PCMag Editors' Choice, 2019 Tabby Awards Winner & 2019 Best Mobile App Awards: Best Designed App and Best Overall App.
That means this is well known and quite good to learn Spanish. Especially if you can't handle heavy apps like Duolingo and Drops this is the best choice for you. This is an app very lightweight.
With the app you can learn around 24 languages. While this app is also to free to easy advanced features can be unlocked with the subscription.
7. MosaLingua
MosaLingua is another free tool to learn Spanish. This app also offered both Grammer and vocabulary training. They have utilized some of the advanced teaching techniques to make it easier to learn.
This app contains more than 3000 flashcards, Audio pronunciation, dialogues. MosaLingua also has a Personalized learning program with exams and a proper schedule.
Thank you for reading our article on Best apps for learning Spanish. Select an app download it today and be a boss in spanish. Good luck!.
8. StudyBlue
This is another cool app that you use to be the boss in Spanish. StudyBlue's learning technique is very special. It uses flashcards to increase the effectiveness of the users. Actually it is said that flashcards are the best way to memorize something in a short time period.
So using this app you will learn faster but it might be boring for some people. However, you will learn very fast. This app covers everything like nouns, verbs, adjectives, etc.
After installing the app you have to find a classroom with Spanish material. Then you will be able to see flashcards Spanish lessons.