Ethnicity Estimate App is for all the people who are looking for a way to identify their DNA ancestry. Actually this is the more upgraded version of the Gradient celebrity app. Gradient Ethnicity Estimate photo app went viral after several celebrities tried it out on twitter. After than many fans were searching for this DNA Ancestry App. So that's why I decided to write this article.
Ever heard of Golden Ratio Face App? It can analyze your face and let you know how perfect are you when it comes to beauty. Check it out, fingers crossed 😀
What is Ethnicity Estimate App?
Gradient DNA Ancestry AI Test app is another app that is released by Ticket To The Moon, Inc. We can categorize this app as a beauty app. Using this app you can estimate your ethnicity using AI technology.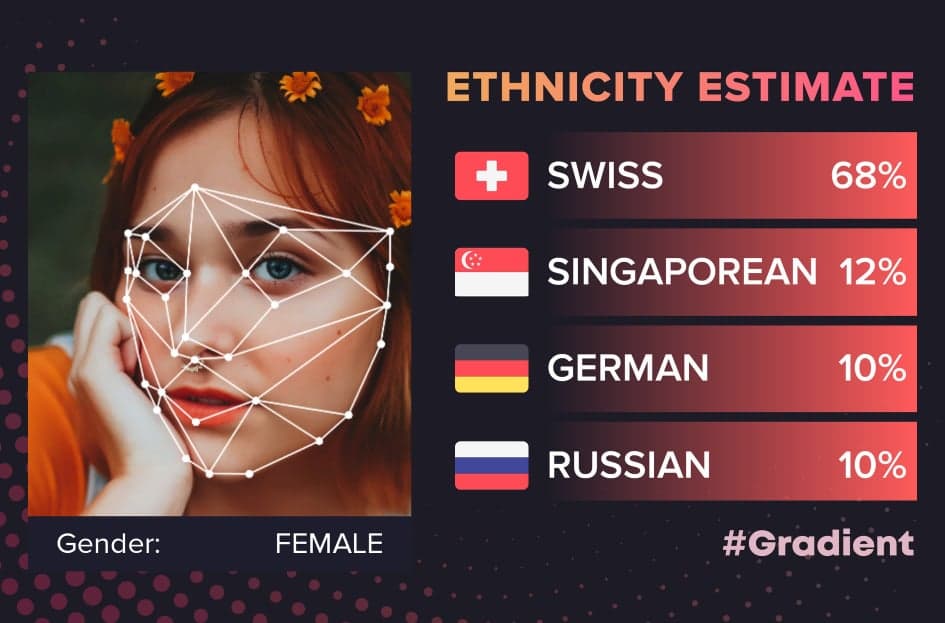 The above picture is exactly what you can see when you use the DNA Ancestry App. Depending on your skin color and various other stuff it will calculate how much percentage you are from each ethnicity. As you can see in the image this girl is 57% percent Korean which is probably true.
After downloading the app you just have to upload an image of a person. Then you will be able to instantly see the results. It is said that this app can guess the ethnicity of any person. Also, this app has the capability of guessing someone's gender. The following are some ethnicities.
Namibian, Nauruan,Nepalese,New Zealander, Ni-Vanuatu,Nicaraguan,Nigerian,Nigerien,North Korean,Northern Irish,Norwegian,Omani, Pakistani, Palauan, Panamanian,Papua New Guinean,Paraguayan,Peruvian,Polish,Portuguese,Qatari,Romanian,Russian,Rwandan,Saint Lucian,Salvadoran,Samoan,San Marinese,Sao Tomean,Saudi, American, Europian etc.
Also as I mentioned about Ethnicity Estimate Test app is just another update for the Gradient App if you already have Gradient app on your phone you don't need to download your historical roots checker. Also currently it is in top 10 in Apple App store Ukraine and United States. So use following guide to download this awesome app.
Download Gradient Ethnicity Estimate App
Gradient Enthinity Estimate App is available for both Android and iOS. Since app the available on both official play store and official apple app store there is no need to download and APK. The following are direct links to download DNA Ancestry analyzer App by Gradient.
How to Use Gradient DNA APP:
Step 1 : Download app using above information.
Step 2 : Open the App, click on try new feature AKA DNA Ancestry test.
Step 3 : Select an image from your gallery. (You face must be visible in the photo)
Step 4 : Click on use this picture
Step 5 : Now you will be able to see your ethnicity percentages.
Step 6 : Click on Save this picture. Now you can share this image or save it to your device.
Thank you for reading our guide on Ethnicity Estimate App. If you have any problems please comment below. We are always online. We will try our best to answer your questions. Finally, if you loved this article please share it among your friends. They might love it too. Have fun with your Ethnicity Estimate test. Don't forget to share results in comments.