Doppelganger app or Gradient App: Celebrity Look Alike App is one of the most popular apps in the Android Playstore & App Store. This is the app that viral due to its capability of creating funny "transitions" pics between to similar celebs. As of today, celebrity match app is available for both iOS and Android. Since this app uses the most accurate look-alike technology this app went viral quickly.
What is Gradient App (Celebrity Look like App)?
Gradient face app is another selfie editor with special effects. When you take a photo through the app it will find the celebrity who looks like you. Many people still call this as the doppelganger app. According to the sources, this app was released by Ticket To The Moon. Even though they released it as gradient app people most often refer to it as You look like or Celebrity Look like app. Gradient look like an app that manipulates highly powerful AI and beautify technologies. This will help you to create stunning celebrity photos of yourself.
How doppelganger app works?
AS mentioned above it uses AI and exaggeration technologies like the ones acquired by Meitu in 2017 to resize eyes and lips, adjust the skin's tone, and change your hair's color. This famous feature is in the section for the photo editor. Users can select their photos and then use the AI to match with celebrities. This is the beauty of doppelganger app.
I love this app pic.twitter.com/L74tz7PNsw

— eve peyser (@evepeyser) October 17, 2019
Download Gradient look like app
Use the following link to download celebrity look like app from official links. if you are using your mobile to browse this website Google play store (Android) & Apple app store (iPhone) will open automatically.
How to use Gradient app?
1. Download and install gradient photo editor from above link.
2. Open the app click on Try now.
3. Take a new photo or select an existing image with your face. A selfie is perfect.
4. Give it some seconds to match your face with your similar face person & celebrity.
5. Enjoy. Share your new Celebrity image.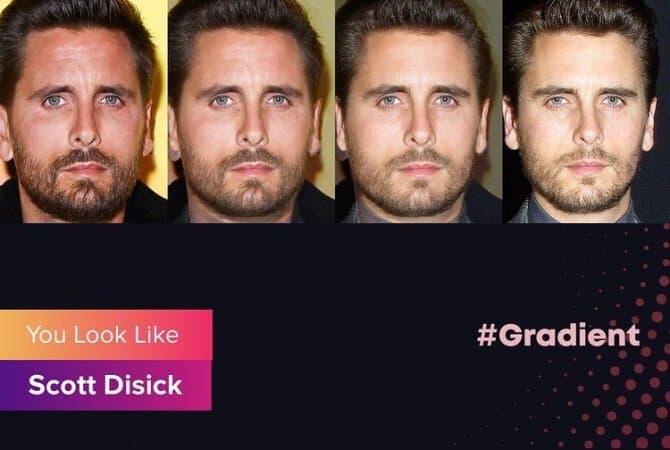 Is Gradient face app safe
When it comes to privacy we are 99% sure that Gradient face app is safe. However, it is users' responsibility to share the photos between trusted people.
Is Gradient Look like app free
Gradient app is free. However, for the celebrity look-alike feature, you have to buy their subscription. But keep in your mind that you are getting free 3 days trial to test the app. Right now for this feature, you have to pay £4.99 a week or £19.99 a month. But most people are just using creating new accounts and using trial periods. For me trial version of doppelganger app was just fine.
How to Unsubscribe from Gradient Celebrity App
In iOS (Apple) , go to Settings and click on iTunes & App Store. Then tap on Gradient App ID and log in to the iTunes Store. Inside your Account, go down to the Subscriptions section. Then click on the details of the gradient and cancel the subscription.
For Android open Play Store, tap on 3 lines on the left top. Then click on subscriptions. Select Gradient app and unsubscribe.
References.
https://w.ww.sta.ndard.co.uk/tech/gradiant-app-what-celebrity-do-you-look-like-plus-is-new-viral-face-app-safe-a4264771.html
https://gadg.etswright.com/how-to-unsubscribe-from-gradient-celebrity-app
https://play.google.com/store/apps/details?id=com.tickettothemoon.gradient.photo&hl=en
https://apps.apple.com/us/app/gradient-photo-editor/id1466097469
Thank you for visiting us. Interested in an app that can show your date of death? Click me.