In this post, I will teach you how to pass the brain out level 5. Brain Out Can you pass it game level 5 answer In this Page.
Brain out Level 5 Answer
Brain out Level 5 solution is move square till it is half out from the screen. Simply put half of a square is equal to rectangle.
Brain out Level 5 Solution Explanation
In the Brain Out app you can drag any objects. So dragging square out of the screen can make a rectangle.
Brain out app create a rectangle answer is to drag a square out of the screen till it makes a rectangle.
Brain out Level 5 Question
Create a rectangle is the question in Brain out Level five.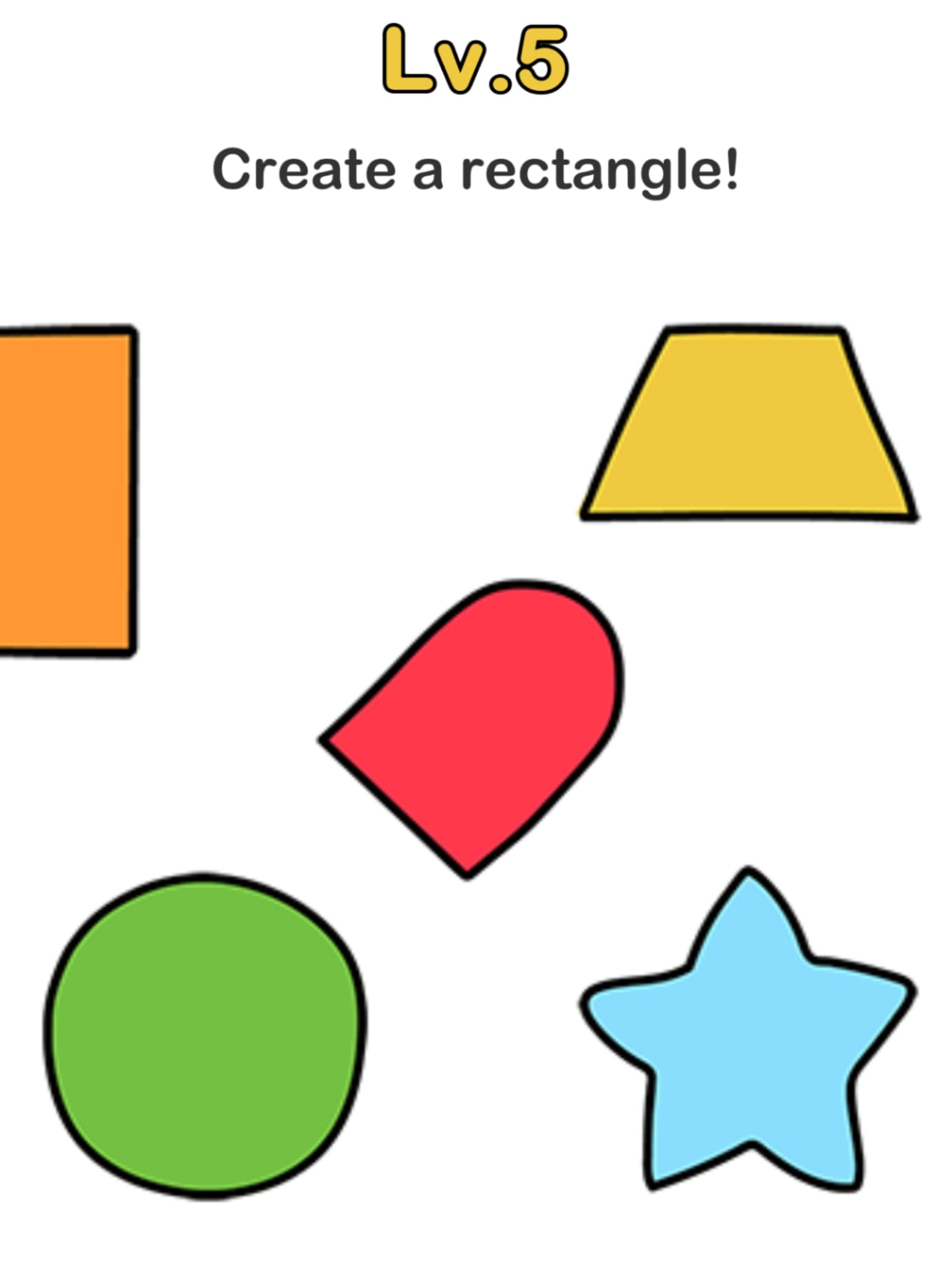 You have to create a rectangle using a circle, square, star. However, the easiest way is to drag the square out of the screen till it makes a rectangle.
About Brain Out Game
Brain Out app is a puzzle game for mobile devices. This addictive puzzle game is very tricky. For a second you might think that you know the answer for brain out game questions. However, it won't be your expected answer. Learn more about Brain out App from our article.
Download Brain out App
Brain Out Game Android Playstore link is: https://play.google.com/store/apps/details?id=com.mind.quiz.brain.out
Brain Out Game Apple Appstore link is: https://play.google.com/store/apps/details?id=com.mind.quiz.brain.out
Brain out Level 5 Walkthrough Video
Brain out game reviews
"It's really a wonderful game develops mental skills and the expansion of the brain thinking I really liked playing this game with smart. It's a beautiful game and also can be fun for children to play with them until they become more intelligent and have more skills "
" Such an amazing game. I love it and don't understand how anyone couldn't. The levels are amazing and overall the game is outstanding. Anyone who is not sure whether to install it you definitely should. It is 100% free and so worth it. I am so addicted and definitely recommend it to others "
"OMG! This game is unbelievable! 5 stars definitely! I saw the ads and I was like, no way this is the actual game. I installed it. And I was stunned. I never had this much frustration, yet fun, on a game like this. I once played this game and looked at the time."
" I absolutely love this game. It's funny, clever and definitely gets your brain moving. What I think would be even better (sorry if it's already there) is that you get certain challenges and a certain number of keys depending on how easy/hard it is to complete, how much you have to do to complete it "
" I'm so addicted to this game within 3 days I have finished all the levels they have to give. Can't wait to see what they are when they update more levels I LOVE THIS GAME!!! The controls are easy just like the graphics. The only bad thing is….. NOTHING! Also, it's offline which is handy if your bored "
" I have been using google play from past 10 years and have played N number of games through this app and you know what, this is the first app I'm rating… you guys have really made an interesting game. This makes me think creatively and which we need in our life. I'm glad that I found this game 🙂 "
" READ THE QUESTIONS CAREFULLY 😁 Definitely a cut about the normal logic type puzzles More humor than most puzzle games and I'm looking forward to doing more puzzles. Of course, they are easy.. When you get the answer! The hints are hints, not immediate answers "
Thank you for visiting us. Make sure you go read answers for other brain out levels also.