Jumanji Snapchat Filter is for all the Jumanji fans in the world. We all know that latest Jumanji movie, Next Level is currently showing around the world. Since everybody loves that movie I decided to create this post on Jumanji Snapchat filter. Actually, when it comes to Jumanji lens so far there isn't a face swap filter. However, following Jumanji filter is very cool!
What is Jumanji Filter App in Snapchat?
Like I said Jumanji 2019 movie is very popular right now. People love that actions move which is based on a board game. That's why this particular Jumanji Snapchat filter became famous. In this Jumanji Snapchat lens, you will be adding the Jumanji board game into your selfie. Special thing is that when you tap on it that boxed board game will open. Now two Jumanji characters will come out! They will start asking questions from you, while pointing at you 😀
Things you need to have before using Jumanji lens
SnapChat App
Snapchat Account
How to Get Jumanji Filter on Snapchat
Since this Jumanji movie filter/ lens is very new you can only add it by following two methods.
The first method is to scan the Jumanji Snapcode using your Snapchat app. To do this open your Snachat app aim your camera to following yellow barcode. Now tap and hold on that Snapcode. Finally, a popup will come and ask you to try the new lens. Now confirm it. You will be able to see Jumanji game box now.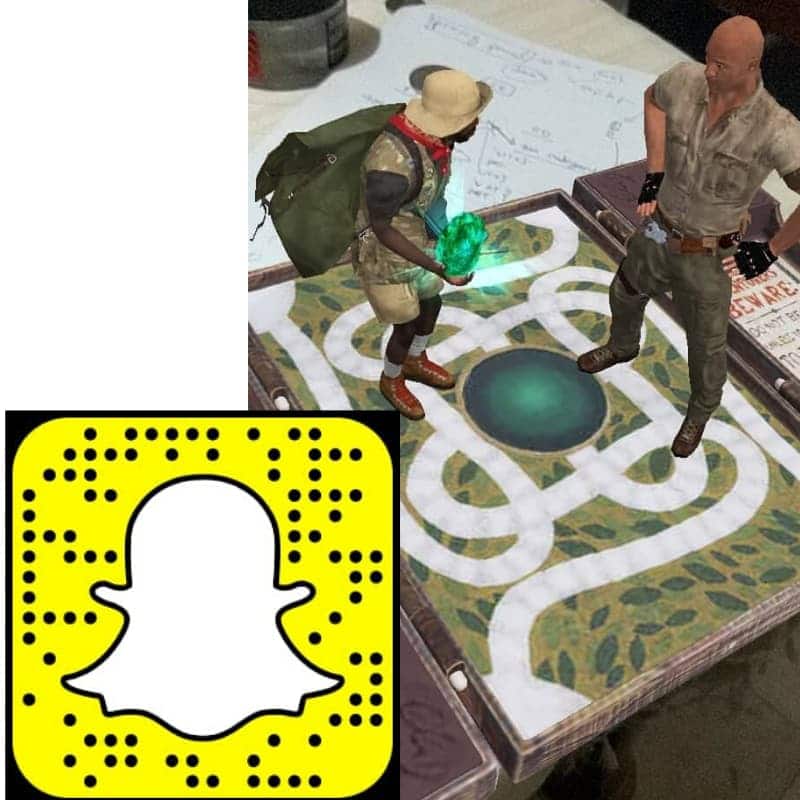 The second way is to click on the above button using your mobile phone. You need to have the Snapchat app on your mobile phone if you want to use this method.
How to Enable Filters
If the above tutorial is not working or if the Spider is not appearing on your Face follow this guide to fix it. This error mostly happen since you have turned off your filters.
Step 1: Go to Snapchat settings.
Step 2: Click on Manage Under Additional Settings.
Step 3: Tap on Filters to Turn them on. (This is a toggle button, make sure you keep it on.)
Step 4: Try following the above tutorial again.
If you are still struggling to use the Jumanji Snapchat filter comment your issue below. Also if you enjoyed this article don't forget to share it with your friends. They might love it too!
PS: You might also love Spider filter Snapchat lens. Check it out!