Which Harry Potter House are you Instagram filter or the Sorting Hat filter is for all the Harry Potter fans in the world. Some people even call this What Hogwarts House do you belong in filter. However, in this lens, you will be able to find your Hogwarts house according to the Instagram sorting hat lens. Since I realized that my post which Harry Potter Snapchat filter went viral I decided to present this post to my fans.
What is the Harry Potter character Instagram filter
Everyone is familiar with who is Harry Potter. However, according to the books and movies, there are four main houses in the Magic School of Hogwarts. They are called, Gryffindor, Ravenclaw, Slytherin, and Hufflepuff. Harry Potter got selected to Gryffindor which resembles daring and the brave.
So in this Which Harry Potter house are you filter lens you will be going to Sorting Hat filter. Basically Instagram will select the perfect Hogwarts house for you.
How to enable and use the Harry Potter house Instagram filter?
Read the following to try the new Harry Potter Test Instagram filter.
1. Open Instagram Application on your Mobile phone.
2. Click on Search Bar (Assuming you are already logged in to your Instagram account.)
3. Search for the terms " @_vasilisova. ". Find the user. Go to his profile.
4. Scroll down and tap on the Filter icon.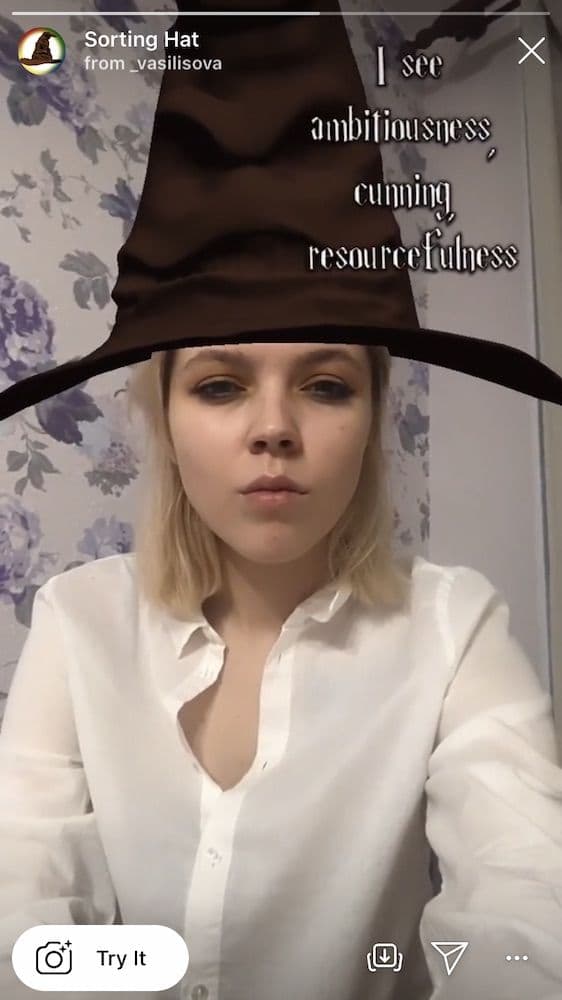 5. Scroll down on Instagram. Find the Hogwarts house lens photo. Tap on it. Click on Try it. Also, you can click on save to the camera button.
6. Enjoy, share your insta shots!
Thank you for visiting us. If you have any problems or concerns when using the Harry Potter Hogwarts Sorting Hat filter let us know by commenting below. We are always online.
References
Instagram.com
https://harrypotter.fandom.com/wiki/Hogwarts_Houses