Wizarding world quiz is for everyone who wants to complete the Wizarding world sorting hat quiz. To be honest this quiz is released by mywizardingworld.com. They are a very popular website for information on the Harry Potter series.
So if you love this trivia make sure you thank the authors of that website.
What is Wizarding World Quiz?
The above-mentioned site is known to publish many quizzes that readers can use to determine several aspects of Harry Potter. As an example using this sorting hat trivia, you are able to find your house in Hogwarts.
In basic terms wizarding world house quiz will help you to determine your Hogwarts house.
Also check out Which Harry Potter House are you Instagram filter
What are the houses in Harry Potter series?
Actually, If you are here you probably know what are the four houses of Hogwarts, but let me refresh your memory.
According to the movie and the book there are four main houses. They are Gryffindor, Hufflepuff, Ravenclaw, Slytherin. They were started by professors Godric Gryffindor, Salazar Slytherin, Rowena Ravenclaw and Helga Hufflepuff.
As we can see in the movie every new student has to wear the sorting hat. Then the hat will magically determine the house of that student according to the personality.
Since Harry Potter got in to Gryffindor all of the fans prefer Gryffindor.
According to the lore each house as different entry requirements.
Gryffindor
Need to be brave
Need to be daring
(Harry, Ron Weasly and Hermione Granger got in to Gryffingor.)
Hufflepuff
Need to be just.
Need to be loyal
Need to be unafraid
(Newt Scamander, Cedric Diggory and Nymphadora Tonks are in Hufflepuff)
Ravenclaw
Need to have a ready mind
Need to be wise and eager to learn.
(Luna Lovegood, Gilderoy Lockhart and Filius Flitwick is in this house.)
Slytherin
(Severus Snape, Draco Malfoy and Lord Voldemort.)
How to do wizarding world sorting hat quiz
To do the sorting hat quiz pottermore you can follow the guide below.
First, you need to create an account or login with an existing account on the wizarding world. Use the following link to create an account.
This is the link to Register
2. Now click on the "create account" button. Then enter the required details and complete the registration.
This is the link to the hogwarts house quiz
3. Go to above link and click on "Start the sorting ceremony".
4. Now you will be asked some question. Most of them are multiple choices questions. After you complete it you will get your result!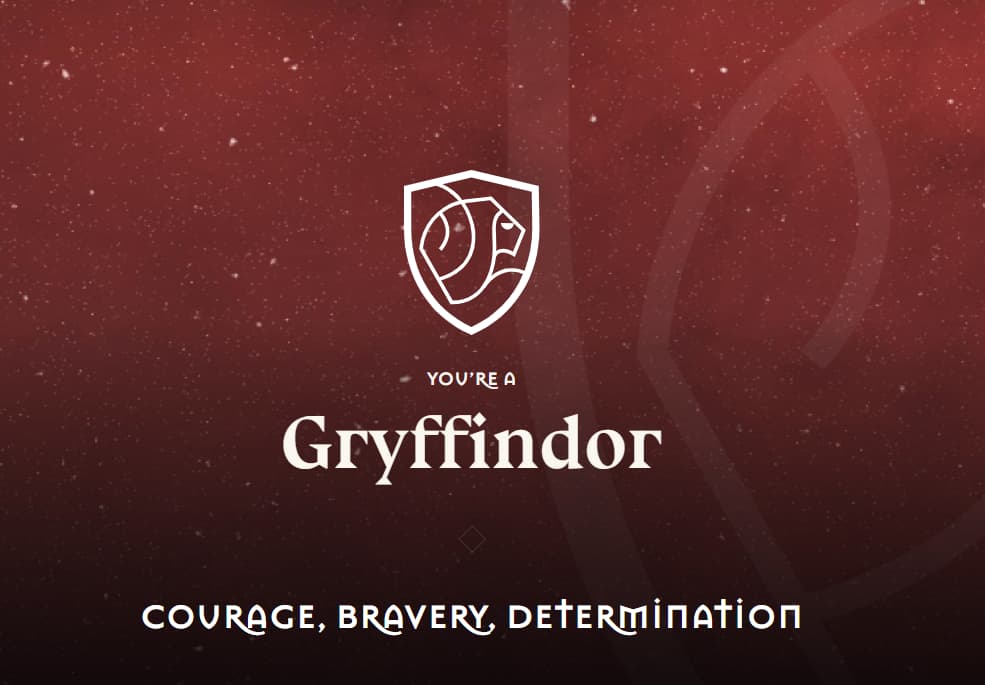 Sorting hat quiz app
Good news for people who are prefer using mobiles phone. There is a seperate app to complete the Wizarding world quiz. This app uses AR technology to complete the task. It is simply like afilter you can use in Snapchat.
You can use following link to download pottermore sorting quiz for Android and iPhone.
Thank you for reading my article. If you loved it please share it among your friends.