WWE Instagram filter is for all the wrestling fans in the world. Especially, if you are watching WWE on Fox you will be amazed by this lens. Did you ever wanted to become Kofi, Stone Cold, The Undertaker, Randy Orton, the Rock, Triple H or Charlotte Flair? Well, this fox wrestling lens can help you achieve that dream. Since there are many WWE Instagram filters I will try to cover few.
What is WWE instagram filter?
I hope you all are familiar with WWE tv show. Well if you are not you better check it out first. You can visit https://www.wwe.com/ and learn more. Come back to the wrestler Instagram filter let me explain how it works. Simply put, WWE face filter Instagram will put your face on your favorite wrestling superstar! Cool right? According to the person who release this WWE lens the purpose of the filter is to position users head instead of the real WWE fighter's face. Also, keep in mind that this filter uses real WWE footage video.
How to get WWE filter?
1. Open Instagram Application on your Mobile phone.
2. Click on Search Bar (Assuming you are already logged in to your Instagram account.)
3. Search for the terms " Foxsports ". Find the user. Go to the profile.
4. Scroll down and tap on the Filter icon. Refer to the below image of the official Fox Sports page for more info.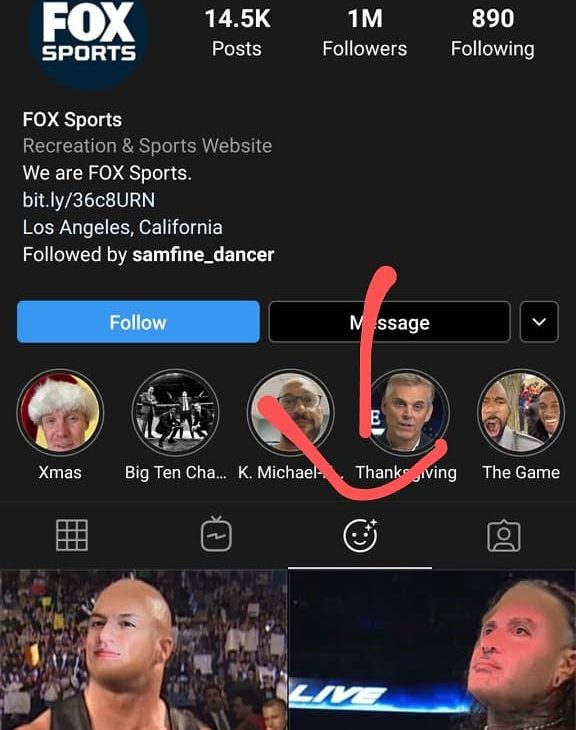 5. Scroll down in Instagram. Find the WWE star you like. Tap on the filter. Click on Try lens or filter.
6. Now take a photo and check out your new body 😀
This is the perfect guide on how to use the WWE filter on Instagram. I'm pretty sure this is just the beginning of using tv shows videos as Instagram lenses. In the future, we might be able to find a lot of tv show footage Instagram filters. However, copyright protection can be an issue. So they the creators and users need to be more careful.
If you love tv show related filters you must try Baby Yoda Snapchat filter, Law and Order Snapchat Filter.
Thank you for reading our article on How to get WWE filter for Instagram. If you have any questions don't hesitate to comment it below. We are always online. Also if you loved this article please share it among your friends. They might love it too.