In this post, I will teach you how to pass the brain out level 7. Brain Out Can you pass it game level 7 answer In this Page.
Brain out Level 7 Answer
Brain out Level 7 solution is to combine all the fires together. So this you need to drag and drop one fire icon to another fire icon. So you will get a big fire.
Brain out Level 7 Solution Explanation
In the Brain Out app, you can drag and drop any objects. Also after this level, I realized that we can even combine elements. So combining fires can give an answer for this level.
Brain out app finds out the largest fire! the answer is to combine all the fires together and tap on the big fire. Don't forget that "The more is the merrier."
Brain out Level 7 Question
Find out the largest fire is the question in Brain out Level five.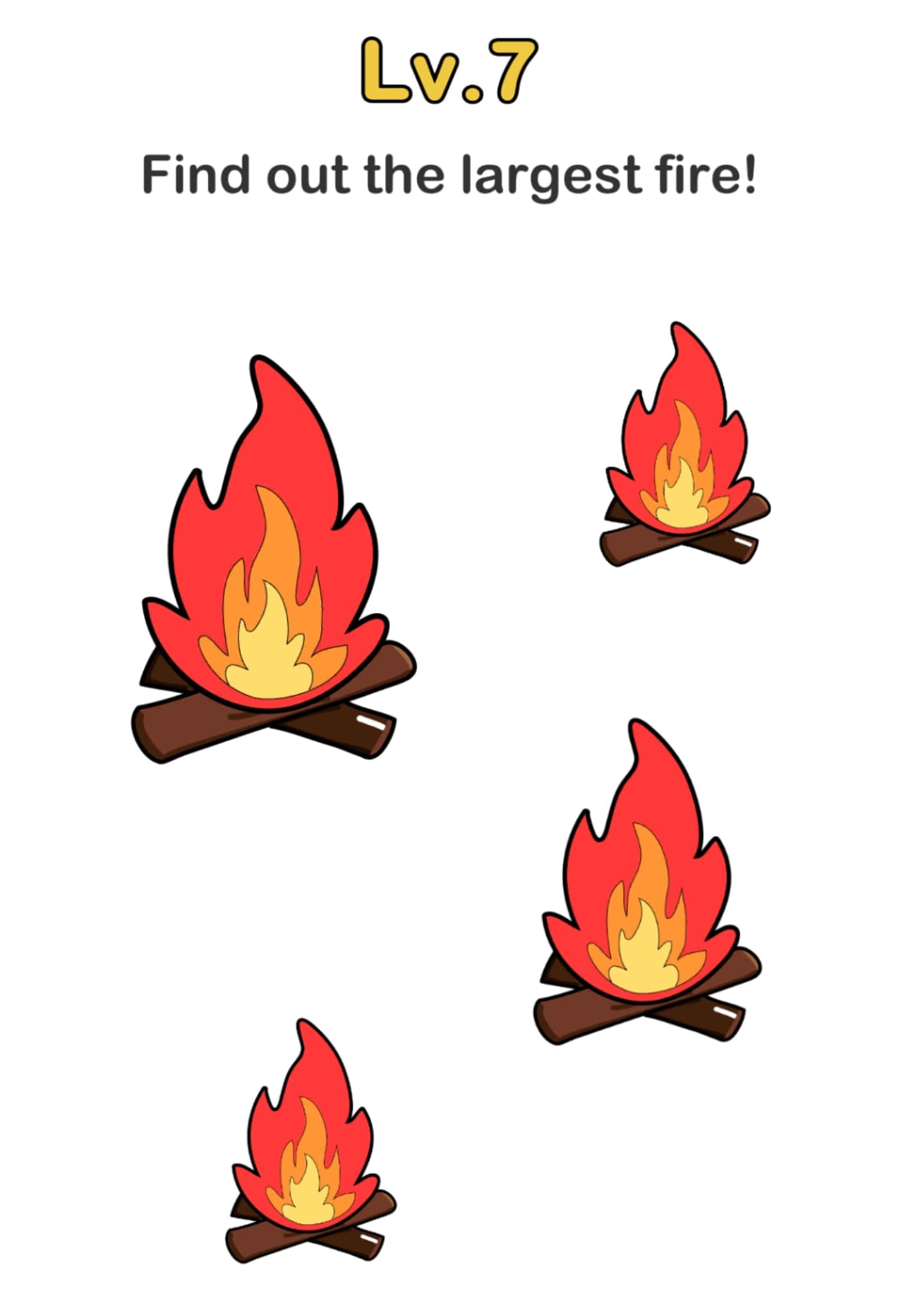 You have to generate a big fire using those small fires. However, the easiest way do is by dragging and combining all the fires together.
About Brain Out Game
Brain Out app is a puzzle game for Android & iPhone. This awesome quiz game is very hard. For a moment you might think that you know the answer for brain out game questions. But, it won't be the correct answer. Learn more about Brain out App from our article.
Download Brain out App
Brain Out Game Android Playstore link is: https://play.google.com/store/apps/details?id=com.mind.quiz.brain.out
Brain Out Game Apple Appstore link is: https://play.google.com/store/apps/details?id=com.mind.quiz.brain.out
Brain out Level 7 Walkthrough Video
Brain out game reviews
"The app is great for people who enjoy thinking outside of the box, the game allows young minds to solve puzzles, making it harder and harder to challenge the brain. This game is amazing, I strongly recommend that anyone who loves to play riddles, think puzzles outside of the box and use it"
"I love this game, totally. It is up to you to think about all the answers really. They're going to really throw you off and that's one of the things I love and can't stop playing if I don't do anything around the house. Today I just found this game and went through more than 25 stages. "
"I really love this game! It's very fun and enjoyable. Nevertheless, the spelling is what bothers me. If you ask me to do something, the grammar confuses me. The questions I really don't understand. It also sends me a quest when I use one of my tips, but when I again press a clue, this repeats the same hint as the first one. It's very nervous and my keys are lost tho"
"Quite difficult. Very complicated. Not in the "this is too hard / difficult" or the I cant do this I feel stupid let me undownload this" type of way but the "wowwwwwww, that was really dope way of doing that. I should ve focused more on the question / level a bit more out of the box" type of way! The game is truly brilliant. I always love it. I love it."
"I'm in a position to play this game! My brain definitely gets checked. I want to make more of a very cool game. I hope this is a good day for you guys, and it's a really good game for me. It's a good and fun game. Put your brain on to the test and I hope you guys like it. I don't know why people don't rate it at a good rate."
"If you're going to want a game that's alert and diligent, Brain Out is the game for you. Check your imagination and problem solving skills. Retrieve the mind, structure and practicality of thought. Now open and open the box of free and opportunistic thinking and learning."
"I like this game, I've downloaded it and my entire family had to find out level by level in the first few seconds. It does great tricks and makes me think much that is difficult to get me to think about, I love this game and recommend it to anyone who would like to become complicated or have tough puzzles."
Thank you for visiting us. Make sure you go read answers for other brain out levels also.