Unban Discord: Since its release Discord has been the most favorite communication platform for gamers around the world. Recently due to its capability of creating groups many people prefer to use Discord instead of other communication software. Even though the software was released for gamers nowadays so many people are using it to have regular conversations.
As I mentioned above users are able to create groups in Discord. Each group has its own terms and conditions. If someone wants to stay in a group he has to follow these terms or the rules set up by the group admin. Well, if there is a person who is going against particular rules or rules of the group the administrator has the authority to ban that person from the group.
This post will definitely help you to understand Discord bans and how to unban someone or yourself on discord.
Am I banned in Discord? How to know?
This chapter will teach you what will happen if you are banned from Discord. Simply put if you are banned you will no longer able to join the particular server, group. However, sometimes this ban can be applicable for your whole account. In that case, you won't be able to join any of the available discord servers and groups.
Also checkout Anime app icons for iPhone and Android
So now you might think creating a new account is a good workaround for these bans. Actually it doesn't work. Sometimes discord goes beyond banning your account. They might ban your IP also. That means even if you create a new account you won't be able to log to the discord using your internet connection.
So who can ban you?
When it comes to Discord there are two main ways you can get banned. As mentioned above it can be specific to a particular group(Server ban) or it can be a system-wide ban.
When it comes to group or server bans administrator (Owner) of the group have the full authority to ban you. That means you are no longer able to access that particular group. However, when you are server banned you are still able to join other servers and voice chat as you do normally.
On the other hand, when it comes to system-wide bans it is a ban initiated by the Discord itself. When you are under a system-wide ban you won't be able to use any of Discord features. Even if you create a new account there is a good chance that there is an IP restriction.
Why did Discord ban you?
While there are many reasons why you got banned in Discord most simple answer is that you have not followed their rules and terms. The following are some other reasons why Discord banned you.
Bombarding Discord servers with spam messages.
Unauthorized advertising.
Sharing Pornographic images, videos, etc.
Impersonate someone else.
Involving with fraud activities.
Since these bans are manually placed by owners of the group reasons may vary from person to person.
How to unban someone on Discord
This tutorial is for administrators of Discord groups. Lets imaging you have accidentally banned someone in your group. Now you want to unban that person. Just follow the tutorial.
Time needed: 30 minutes.
How to unban someone on Discord
Open discord server settings

Open your Discord app, log in to your account. Select the channel you want to unban users. Select the top arrows and go into server settings.

Goto Banned users Tab

Inside server settings you will be able to a tab called "Bans". Click on it. In here you will be able to see a list of banned users.


Unban the user.

Now Click on the Banned user's name. And click on Revoke Ban button.
Also you can search for a particular banned user if you have many.
What will happen after the unban?
Nothing new here. The unbanned user will have access to the server as normal. He will be able to post a message or initial voice messages in the server AKA the group. He is just another member of the server.
Furthermore, the users are able to write SMS, enter a voice queue, send private messages, and watch live gaming on the web. An unbanned user is also qualified for various positions for members including administrators, moderators, and other server special positions.
Can I ban a user again after unbaning him?
Yes, you can. After the unban that user becomes a regular user in your server. So you can ban him as usual. This is possible only if you are the server administrator or the group owner.
How to ban someone on Discord
Again, this is a guide for group owners to tech them how to ban someone in their server.
Sometimes there might be people who are going against your channel's rules and regulation. So this guide will teafch you how to ban those people from your channel.
First open the channel which you want to ban users from.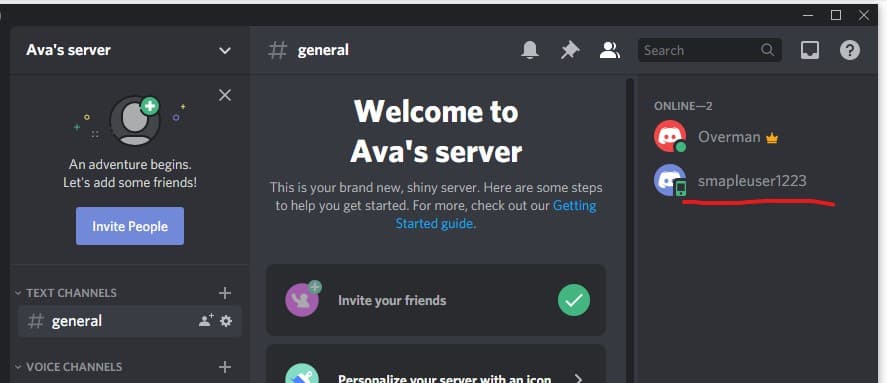 Let's imagine we want to ban above smapleuser1223. All you have to do is right-click on the user's name and then tap on the Ban User button. That's it. It will ask you to confirm. After it you are good to go.
How to get unbanned on a Discord: System Ban
Getting unbanned from a system ban is a bit tricky. You have to contact Discord support for this. You can do so by using Submit A request link. In there you have to appeal your ban. Make sure you include enough proof.
You can attempt to appeal your ban request by contacting our Trust and Safety team: https://t.co/rgJ9BU8Xu3

— Discord (@discord) May 30, 2018
Thank you for reading our article on how to unban someone from discord. If there are any questions don't forget to comment below.