Blink at 6.000 Seconds Instagram filter for all the people you are looking for challenge-based lenses on Instagram. By using this lens you will be able to do 6 seconds Instagram story challenge. Even though, this blink at the 6-second game Instagram filter I popular many people do not know how to properly unlock and use the lens. That's why I decided to write this article on Blink at 6.000 seconds Instagram filter. Before moving on I must inform you that this filter is somewhat addictive. I tried to go the 6 seconds challenge on Instagram using this filter many times however I want unable to complete it. So good luck!
Also if you loved this you might also love Don't Blink Instagram Filter.
Blink at 6.000 seconds, Instagram Filter?
This filter can be recognized as the most popular filter on Instagram in January 2020 after the Butterfly Filter. In this Instagram filter, you will be trying to complete the blink at 6 seconds challenge. Basically in this lens, you have to blink your eyes exactly at 6.000. Think that's easy? Actually I meant 6.000 not 6 seconds. That means you have to blink exactly on the correct millisecond 6.
It has a stopwatch on top so you will be able to see the timer. However, you have to calculate the response time at blink exactly at the sixth second. Since we are using milliseconds here time is moving very fast. So you have to plan your blink properly. Get ready to upload 6 seconds Instagram story.
Things you need to have before using blink at 6 seconds lens
Instagram App
Insta Account
Ability to blink?
How to get blink at 6 seconds filter instagram?
1. Open Instagram Application on your Mobile phone.
2. Click on Search Bar (Assuming you are already logged in to your Instagram account.)
3. Search for the terms " yana.mishkinis". Find the user. Go to her profile.
4. Scroll down and tap on the Filter icon. Refer to the below image of the user for more info.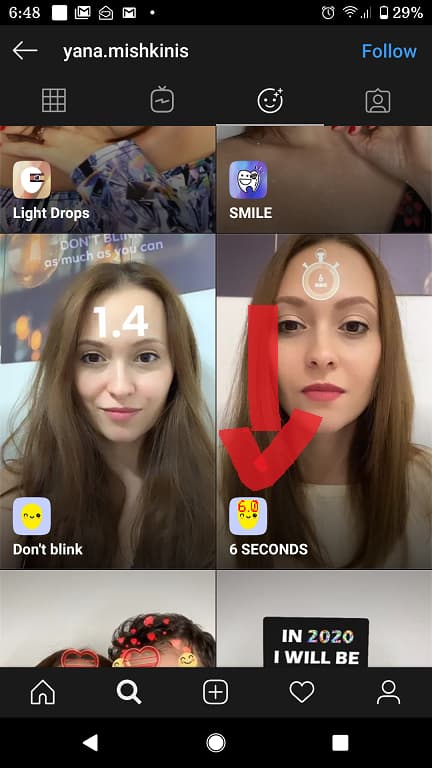 5. Scroll down on Instagram. Find the 6 seconds photo. Tap on it. Click on Try it. Also, you can click on save to the camera button.
6. Now tap on the screen and timer will start running. Try to blink at 6 seconds!
You can share it as 6 seconds instagram story.
I really could not find someone who was successful in this challenge. Well if you were able to complete the challenge don't forget to share it with us. You might be the first. Well, I'm pretty sure that you will get 5.999 or 6.111 many times. Don't be angry LOL! Try again.
Anyway if you loved this article on Blink at 6.000 seconds Instagram Filter don't forget to share it among your friends. They might love it too.